Bugz Workshop

---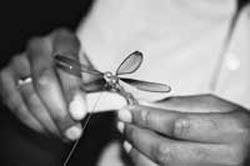 Bugz was formed by Paul Hunter, a British citizen who has lived in South Africa since 1989.
At a time when neither he nor the Zulus he met had a job because of the collapse of the market where they used to work, Paul decided to start a business. The production started with one producer then one by one other Zulu people came to join the team of workers.
The company has been built without any outside Corporate, Individual or Government funding. These little bugz (butterflies and dragonflies) are now responsible for supporting hundreds of Zulu workers and their families.